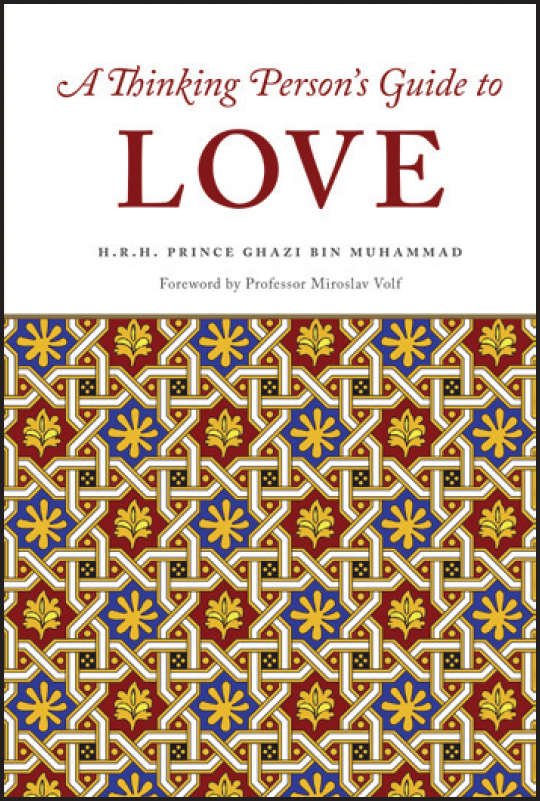 ---
HRH Prince Ghazi bin Muhammad bin Talal
A Thinking Person's Guide to Love
White Thread Press
A Thinking Person's Guide To Love took five years to write and over 30 years to research. It is a multi-disciplinary work of the humanities and can be read as a compendium of the last 3,000 years of human wisdom on love. To make its points and conclusions it draws from literature, poetry, history, psychology, sociology, anthropology, art, religion, mysticism, music, and drama.
Some of the questions the book answers are: What is Love? What is Beauty? How Does Love Work? What is Falling in Love and How Does it Work? and Who Loves? It offers a definition of love and of falling in love, and discusses the kinds, hierarchies and degrees of love. It also explains the stages of love and of falling in love and why, how, when and where they occur. Some of the other themes the book discusses are infatuation and obsession, love at first sight, jealousy, first love, soul mates, marriage, and unrequited love.
In the book Prince Ghazi says that his aim in writing it is "both to encourage people to let themselves love and fall in love, and then to do so responsibly in a way that they do not wind up destroying themselves or others through that love." Despite it tackling a complex subject, it is accessible and entertaining and very often beautifully lyrical.
---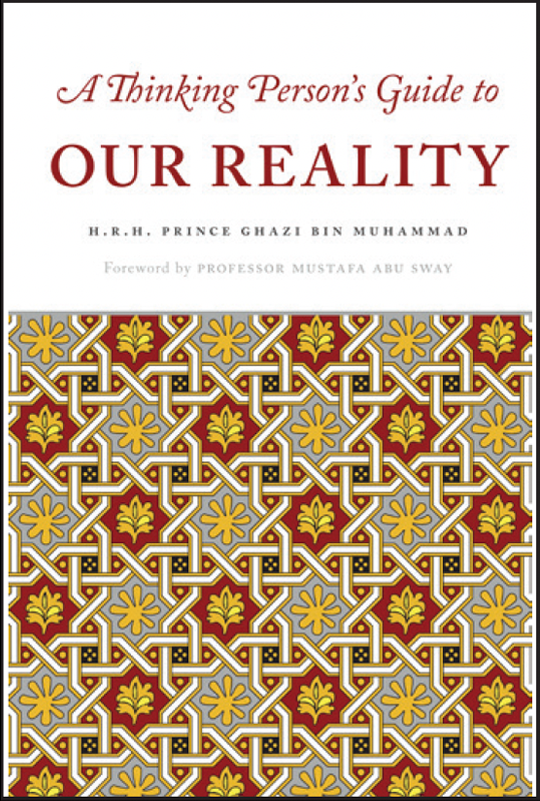 ---
HRH Prince Ghazi bin Muhammad bin Talal
A Thinking Person's Guide to Our Reality
White Thread Press
Written in response to a request from his son to impart 'all the advice he needed for the rest of his life in one book,' in the sixth book of the A Thinking Person's Guides and A Tentative Guides Series, HRH Prince Ghazi bin Muhammad offers a stunning and succinct gem of a book.
Written in a didactic narrative tone, the book's brevity and succinctness serve to drive home the ten sacred passages—seven from the Qur'an and three from the Hadith—that the book meditates on. The Qur'anic passages are: Surat Al-Fatihah, Surat Al-Ikhlas, Ayat Al-Kursi, Surat Al-'Asr, the second and third verses of Surat Al-Talaq, and verses 151-157 of Surat Al-Baqarah, and verses 7-10 of Surat Yunus. The Hadiths are: Hadith "Al-Kayyis", the Hadith "The world is accursed", and the Hadith "The pens have been lifted and the pages have dried." Prince Ghazi exhorts the reader to "contemplate them until they are part of you, or, rather, until you are part of them ... for indeed they are signposts for true life."
A Thinking Person's Guide To Our Reality is a practical complement to Prince Ghazi's previous book in the series A Thinking Person's Guide to Our Times (White Thread Press and Turath Publishing, 2019) and the two books are meant to be read as a pair. The previous books "looks outwardly at the world", while A Thinking Person's Guide To Our Reality "looks inwardly at ourselves". Together the two books serve the aim of knowing ourselves and knowing our reality.
---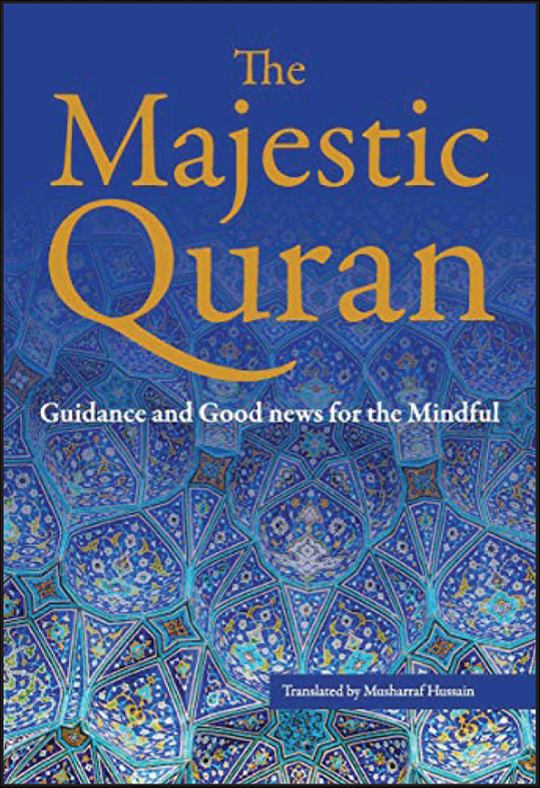 ---
The Majestic Qur'an: A Plain English TranslationInvitation Publishing
White Thread Press
This reader-friendly presentation of the translation of the Qur'an will help you understand the topic you are reading, and learn the moving and transformative message of the Qur'an.
There are 1,500 sections with headings. The infallible word of Allah is a literary masterpiece of breathtaking beauty, revealed by the Most Gracious and Loving Lord in an authoritative yet gentle, poetic language.
This refreshing and beautiful presentation of the message of the glorious Qur'an is accurate, and reads easily and flows smoothly. The notes help to explain special Islamic concepts and Qur'anic terms, as well as Arabic metaphors and idioms. This landmark translation will appeal to English readers globally.
Dr Musharraf Hussain is a distinguished scholar. He is the Chief Executive of Karimia Institute (Nottingham, UK). He was born in Pakistan and settled in the UK in 1966. He demonstrated exceptional academic talent from a young age, memorising the Qur'an and mastering Tajweed and Qur'anic Arabic. Dr Hussain's pursuit of Islamic knowledge led him to study under renowned scholars in Pakistan and Egypt. He has received numerous accolades for his outstanding services to community relations in Britain, including an OBE in 2008.
---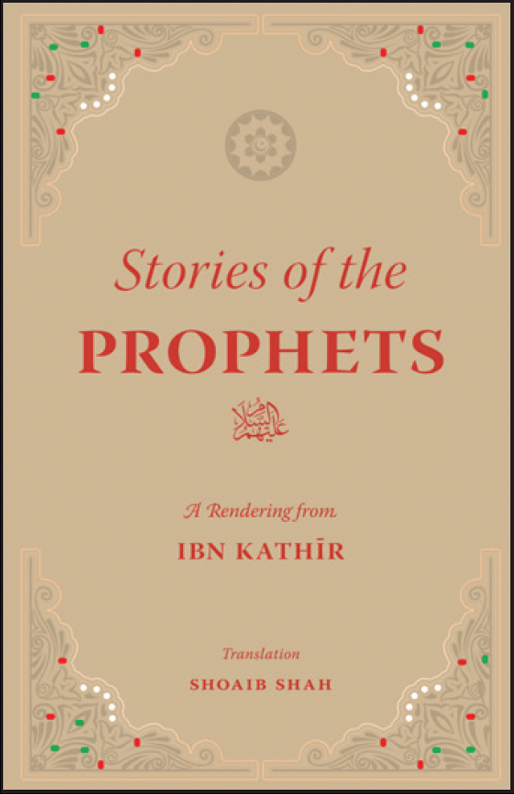 ---
Imam 'Imad ad-Din Abu'l-Fida Isma'il ibn Umar ibn Kathir
Stories of the Prophets, a Rendering from Ibn Kathir
Turath Publishings
Extracted from the celebrated Ibn Kathir's al-Bidayah wa'n-Nihayah Qasas al-Anbiya is a detailed look at the rich, lesson-filled lives of the Prophets, upon them be eternal blessings and peace. This classic work seeks to reconnect Muslims to the stories of the Qu'ran and the excellent example of the Prophets. In this book, Ibn Kathir presents verses from the Qur'an, complimented by narrations from the final Prophet . Sources from the previous scriptures are also consulted but with critical analysis of their veracity. May Allah (swt) instill in us the beautiful qualities of the best humankind and may He unite us with them in Firdaws al-A'la. Amin.
Imaad Ed-Din Isma'il Ibn 'Umar Ibn ibn Kathir was born in the year 700 AH or a little later in an area called Majdal (in modern-day Syria), near Busra. His father died when he was only four years old and was taken in by his brother and moved to Damascus in 706. Here, he learned from great scholars such as Ibn Asakir, Ishaq ibn Yahya Al-Amudi and the great Ibn Taymiyyah who was extremely close to him. He followed the Shafi'i school of thought. Al-Hafiz Ibn Hajar Al-Asqalani said, "Ibn Kathir lost his sight just before his life ended." He died in Damascus in 774 AH May Allah grant him Mercy and make him amongst the residents of Jannah. Ameen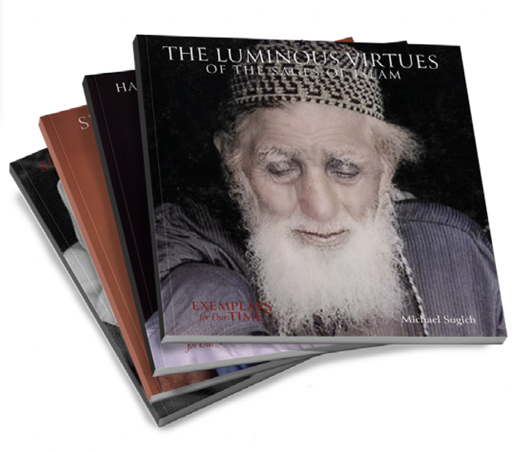 ---
Michael Sugich, Peter Sanders, et al.
Mecca Books
Internationally acclaimed photographer Peter Sanders (Meetings with Mountains, The Art of Integration, In the Shade of a Tree) and popular author Michael Sugich (Signs on the Horizons, Hearts Turn) have joined forces to produce Exemplars for Our Time, a deluxe limited edition nine-book box set of illustrated biographies of some of the most influential and inspiring Muslim saints and sages in our time.
This unique series profiles the lives of Sayyida Fatima Yashrutiyya, Habib Ahmad Mashhur Al-Haddad, Shaykh Murabit Al-Hajj, Muzaffer Ozak Efendi, Sidi Muhammad ibn Al-Habib, Sufi 'Abd Allah Khan, Sayyid 'Umar 'Abd Allah Mwinyi Baraka, and Shaykh Salih Al-Ja'fari.
Biographers include Shaykh Hamza Yusuf, Dr Mostafa Al-Badawi, Shems Friedlander, Dr Karim Lahham, Dr Samer Dajani, and Michael Sugich. Each book is beautifully illustrated with the photography of Peter Sanders, Shems Friedlander, and others, as well as rare images from the lives and times of these great souls.
Michael Sugich is a native of Santa Barbara, California and studied at UCLA and the California Institute of the Arts. He was initiated into a traditional Sufi order in 1972. Since that time he has studied Sufi doctrine and practice with spiritual masters across the Arab and Islamic world. He lived for 23 years in the precincts of the sacred city of Makkah Al-Mukarrama where he kept company with many men of knowledge and illumination. He has been a professional writer and communications advisor for 40 years.
Peter Sanders began his career in the mid 1960s photographing the rock n' roll icons and documenting the culture of that time. In 1970, he set off for India, cameras in hand travelling for seven months. This trip became a spiritual odyssey that led him onto Morocco and thereafter to the Holy cities of Makkah and Madinah, where he photographed the Hajj, at a time when few professional photographers gained access to Islam's holiest sanctuaries. During the following 50 years he has travelled extensively around the world documenting societies and cultures often hidden from view.
---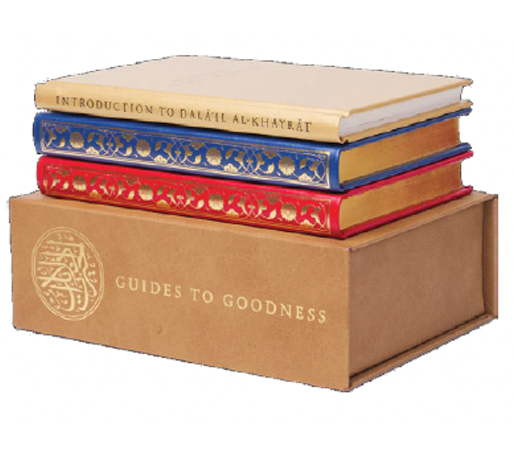 ---
Dalā'il Al-Khayrāt Deluxe Box Set
White Thread Press
A carefully crafted masterpiece for the Muslim Ummah, a rich token to preserve our tradition, and an heirloom for future generations to enjoy.
The Dalā'il Al-Khayrāt Box Set includes accurate facsimile Arabic edition, complemented with a remarkable translation of this important book complemented by the accompanying guidebook Introduction to Dalā'il al-Khayrāt authored by Shaykh Muhammad al-Yaqoubi, form a truly remarkable trilogy set.
All three books are carefully contained within a bespoke box.
Abū 'Abdullah Muhammad ibn Sulaymān ibn Abū Bakr al-Jazūli al-Simlālī, often known as Imam al-Jazuli or Sheikh Jazuli, was a Moroccan Sufi saint who died in 870 AH. He studied usul al-fiqh and Maliki law at the Madrasat As-Saffarîn in Fez. He also met the famous jurist and mystic Ahmad Zarruq during his studies. He left Morocco and spent the next 40 years in Makkah, Madinah and Jerusalem. After his long journey, he returned to Fez where he completed the prayer book Dalā'il al-Khayrāt.
---