Which Muslims actually influence the Muslim community? If you relied on the general media for this answer you just might walk away with an understanding that the only Muslims with influence are those on the extreme fringe. Studies have shown that although they make up less than 1% of the Muslim population they dominate the nearly 95% negative coverage of Muslims in the media.
We asked ourselves if it was entirely their fault for not researching more or was there something we could do to help this situation. It's easy to sit back and blame the media but it takes quite a bit of effort to figure out what information do journalists need in order to cover the Muslim world more objectively.
We needed to come up with a book that would give everyone reporting on, or dealing with, the Muslim World about who is actually shaping this vast nation of disparate people at their fingertips.
Until 2 years ago there was no clear place to turn to in order to find answers to these questions.
Now there is.
In 2009, we launched the first edition of the 500 Most Influential Muslims. With a small team and a short amount of time we were able to publish it hoping that it would be get at least a few thousand readers. We were not expecting what followed. It was an absolutely huge success with tens of thousands of downloads.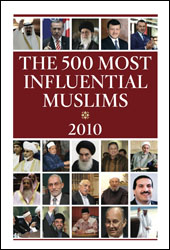 Last year, we gathered all the feedback we got, did some more research, and came out with the 2010 edition, which again was a huge success with tens of thousands of more downloads and increased media coverage.
With a year and a half under our belt we decided that we would raise the bar far higher in 2011.
Although the publications have been a huge success online we still did not reach the places we want it to get to with our print edition.
We want this publication to be in every library and school in the English speaking world so that every single student will have access to it. We want it on the desk of every journalist so that they will have a reference to turn to when writing about Muslims. We want it to be in every non-profit organization that does work in the Muslim world. In short we want to spreach it's benefit to every person that may find benefit in it.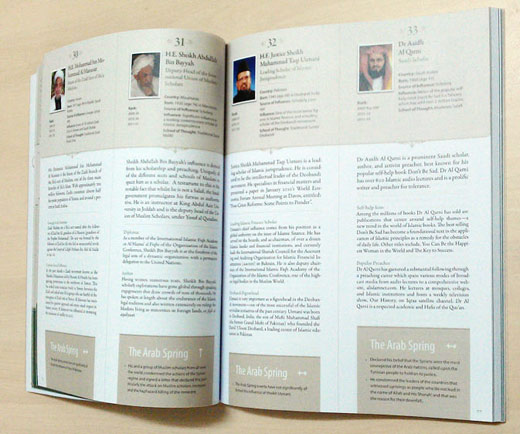 For this to happen we needed to do more with the print edition to make it more accessible, lighter, engaging, and jammed-packed with up-to-date information.
So in order to do this we set a few concrete goals for the 2011 Edition, which we are excited to have fulfilled:
Updated Bios: We spent months going through all the bios, digging for updates where ever we could find it. As the Arab Spring and other news events unfolded we constantly updated the book to reflect changes.
Expanded Introduction: A new introduction by S Abdullah Schleifer about the book and the Arab spring.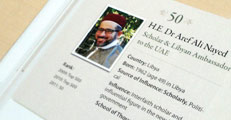 New Format: We analyzed the book size and layout and came up with a new format that allows much more information in fewer pages with a 14% increase in the amount of information including, for the first time, dozens of quotes and stats, despite reducing the amount of pages by 20% and decreased the weight by roughly 25%, making it lighter on the hands.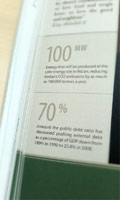 Beauty: Besides the format allowing for more information it also allowed for a more elegant design with a near doubling in the amount of images, including award-winning photography and calligraphy, making it both light enough to hold and a sight to behold.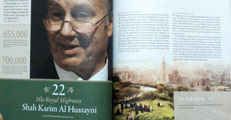 Arab Spring Box: An "Arab Spring" box was added for the top 50 that highlights each person's response to it and how it has affected their influence.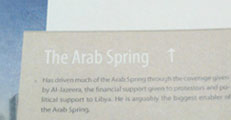 Maps: Expanded from just a single map highlighting only Muslim majority countries to 2 maps highlighting the world's Muslim population providing new ways to look at the Muslim World.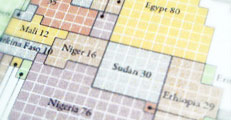 An Obituary section: This year we added a section for the deaths that occurred in the past year of top influential Muslims, adding to the uniqueness of each year's edition.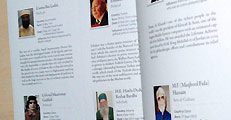 This year's edition is completely unlike previous years. It has taken from all the previous work and has improved it dramatically with the print edition a clear improvement from previous editions. We just printed our first sample batch and handed them out at a conference and found that many couldn't put it down once it was in their hands. We are confident that you will feel the same way.
Although we put much effort into making the print version greater than before, we still offer off the same exact content on a FREE PDF version which you can download this very minute.
However, there is still something to be said about holding a print version of the book in your hands and reading it in the comfort of your own home which is why we continue to carry both, with the print edition priced enough to cover the cost of printing at a limited edition print run at $39.95.
The 2011 Edition is now at the printers and will be ready for shipments very soon and is available now. However, we wouldn't want you to wait around for a week without receiving something in return for your patience so for this week we are offering you a special pre-order discount that you won't find elsewhere again: $10 off each book you order making it just $29.95! That's a huge saving of over 25% which you don't want to miss out on.
Order your copy here and save over 25%! And while you are at it pick up a few for your local library, school, non-profit organization, or newspaper.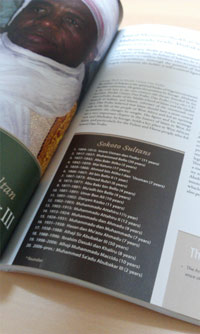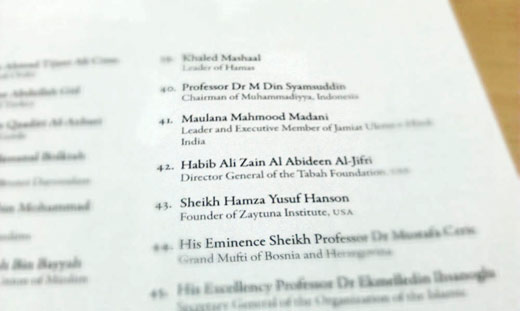 In this book you will learn more about:
Where are people to turn to to find out who are the actual movers and shakers in the Muslim communities?
Who are the scholars, teachers, and preachers who affect the widest number of Muslims?
Who are the Quran reciters who most Muslims turn to in order to connect with the Quran?
Who are the main Muslim politicians who get things done in the domestic and international realms?
Who run the largest religious educational systems that affect the next generation of Muslims?
Who are the top Muslim business leaders who help keep economies growing?
Who are the Muslims donating millions to charities and who runs the largest of Muslim-based charities?
Who are the Muslims initiating changes
on the ground that affect health, education, women's rights, the
environment, human rights, and conflict resolution?
Who are the top Muslim scientists, artists, celebrities, sports stars?
Just how influential are these
radicals that dominate the advertising-sponsored news and help keep a
huge military-industrial complex moving?
Who were the major Muslim figures who died in the past year and what did they draw their infuence from.
Who are the Muslims whose influenced has increased over the past few years, rising up to the top 500 this year.
And much, much more.
If there is any year to buy a copy of The Muslim 500 then make it this historical year.
Order a copy now for only $29.95 plus shipping and handling.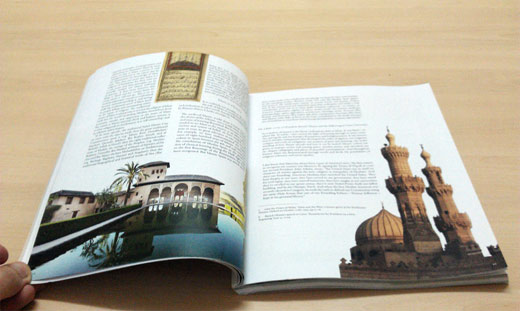 Make an order this week and save $10! Each book retails for $39.95 but you can get your copy now for only $29.95, or order 5 books for your family, friends or interfaith community for just $20 each. Please email us first to get the discount.
Wholesale options available (retailers and institutes). Email us at [email protected] to make a wholesale order.