In just over 3 years The Muslim 500 has become the world's premiere source for a listing of the World's most influential Muslims. And with each edition the annual publication increases its scope and depth. This 4th edition is no different with a number of exciting changes.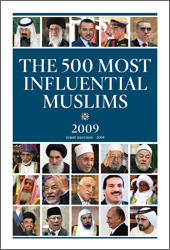 In 2009, we launched the first edition of the 500 Most Influential Muslims. With a small team and a short amount of time we were able to publish it hoping that it would be get at least a few thousand readers. We were not expecting what followed. It was an absolutely huge success with tens of thousands of downloads.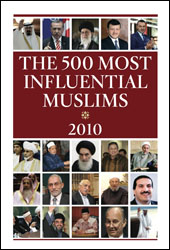 In 2010, we gathered all the feedback we received, did some more research, and came out with the vastly improved listings in the 2010 edition, which again was a huge success with tens of thousands of more downloads and increased media coverage.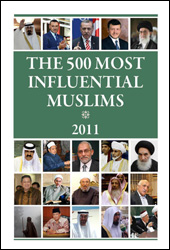 In 2011, we redesigned the book adding more content, stats, quotes, artwork and pictures, an Arab Spring box for the Top 50, an obituary section, maps, and more. We also launched the companion website. Both the website and book have been very successful with tens of thousands of downloads and views.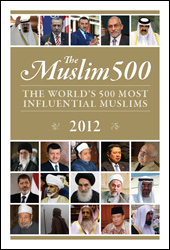 With a new, more flexible design from 2011 under our belt we decided to focus strictly on content improvements this year. We wanted to make this issue even more thorough than previous issues.
In order to do this we set a few concrete goals for the 2012 Edition, which we are excited to have fulfilled:
Updated Bios: We took a year's worth of updates, spent months going through all the bios, and edited many bios, expanding on a number of them.
Expanded Introduction: A new expanded introduction by Professor S. Abdullah Schleifer (more than double the size of last year's) surveying the major events in the Muslim World from the turbulent past year, and covering more subjects than all previous issues.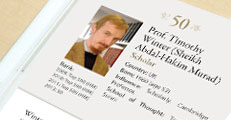 Reformated and expanded 'Issues of the Day': now approximately 5 times larger than previous issues, and covering the issues in more depth. Also, for the first time we feature exclusive pieces by distinguished guest writers covering issues such as US Foreign Policy, Islamophobia, Circumcision Controversy as well as pieces on Gaza, the destruction of Sufi shrines, interfaith, the massacre of the Rohingya, the fight for Al-Azhar, the Integral Chairs and more.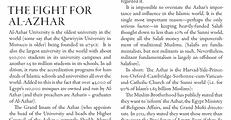 Arab Summer Box: An "Arab Summer?" box has replaced the 'Arab Spring' boxes from last year for the top 50, highlighting each person's response to the Arab Spring and how it has affected their influence.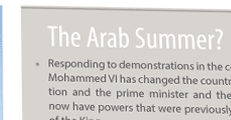 New List: We have added many new names to the list. With a pool of over a billion candidates from numerous fields of endeavours, there are literally hundreds that are close to making the list in any given year. This year many have crossed the line, mainly due to their recent work.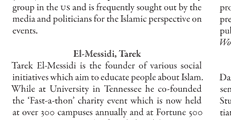 How Much? Although we put much effort into making the print version greater than before, we still offer the same exact content on a FREE PDF version which was added to our site today so you can download the 2012 Edition this very minute.
However, there is still something to be said about holding a print version of the book in your hands and reading it in the comfort of your own home which is why we continue to carry both, with the print edition priced just enough to cover the cost of printing at a limited edition print run at $39.95.
Order your copy here! And while you are at it pick up a few for your local library, school, non-profit organization, or newspaper and save 50% with our 5-pack gift set, perfect for donating to your local organizations.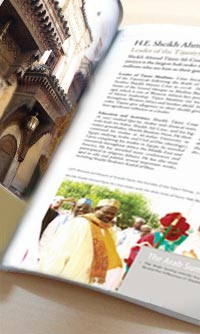 — What You'll Learn —
In this book you will learn more about:
Where are people to turn to to find out who are the actual movers and shakers in the Muslim communities?
Who are the scholars, teachers, and preachers who affect the widest number of Muslims?
Who are the Quran reciters who most Muslims turn to in order to connect with the Quran?
Who are the main Muslim politicians who get things done in the domestic and international realms?
Who run the largest religious educational systems that affect the next generation of Muslims?
Who are the top Muslim business leaders who help keep economies growing?
Who are the Muslims donating millions to charities and who runs the largest of Muslim-based charities?
Who are the Muslims initiating changes on the ground that affect health, education, women's rights, the environment, human rights, and conflict resolution?
Who are the top Muslim scientists, artists, celebrities, sports stars?
Just how influential are these radicals that dominate the advertising-sponsored news and help keep a huge military-industrial complex moving?
Who were the major Muslim figures who died in the past year and what did they draw their influence from.
Who are the Muslims whose influenced has increased over the past few years, rising up to the top 500 this year.
And much, much more.
If there is any year to buy a copy of The Muslim 500 then make it this historical year.
Order a copy now for only $29.95 plus shipping and handling.
Make an order now! Each book retails for $39.95, or order 5 books for your family, friends or interfaith community for just $20 each. Please email us first to get the discount.
Wholesale options available (retailers and institutes). Email us at [email protected] to make a wholesale order.